The FGI Group supports fund procurement efforts through financial arrangements and financial advisory services and helps clients achieve their strategic goals. Financial arrangement services facilitate fund procurement through various processes, such as planning and proposing the best possible financial strategies, inviting financial institutions, investors and other parties to participate in arrangements, and creating documentation. The aggregate amount of fund procurement under real estate securitization arrangements formed by FGI Group companies involved in such operations reached ¥901.4 billion in fiscal 2022.

The FGI Group provides various solutions, including investment and financial advisory services, to companies faced with business succession issues.
On each project, investment is made through an acquisition fund (non-consolidated) comprising a contribution from FGI, loans from financial institutions and other sources. Investment amounts for intended projects through such funds are increasing each year.
Total Investments Through Acquisition Funds (Amount of financing in each fiscal year)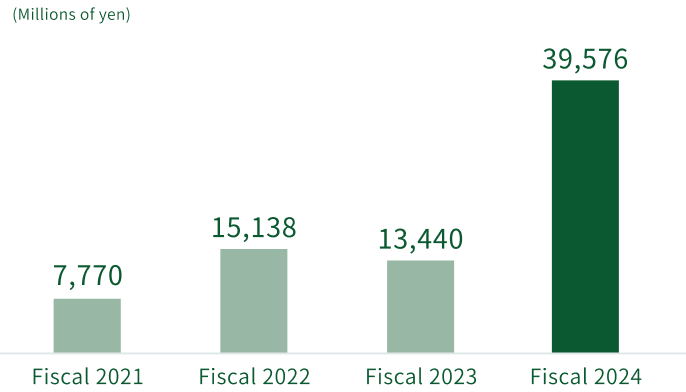 The FGI Group also has the capacity to extend financial solutions to the public sector though the public management consulting business, which focuses on public accounting for local public entities and helps promote enhanced financial health in such areas as formulating general management plans, including those for public facilities, and for public enterprise accounting.
Related information
More details on the public management consulting business